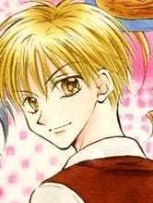 Kitazawa Sora (北沢 空) is a talented pianist and the older brother of Daichi Kitazawa (Kitazawa Daichi). He is the president of the student council and substitute director of the school. Daichi called him as a "traitor" and a "two-faced jerk" because he accepted their father's marriage to their current stepmother. He and his father have a secret about Daichi's childhood. Sora also lied to Najika (Kazami Najika) that he is his "Flan Prince" because he didn't want Najika to know that:
Daichi is Najika's true Flan Prince
Sora dosen't want Daichi to remember their Mother's death six years ago
Towards the end of the series, he gets hit by a car and is sent to the hospital. Najika hears about this and rushes to see Sora. As he lay dying, Sora finally tells her that he wasn't her Flan Prince. Before he passed away, she asked him why he lied and he said he wanted to be her prince.